Veronica Lewis – You ain't unlucky (19 febr)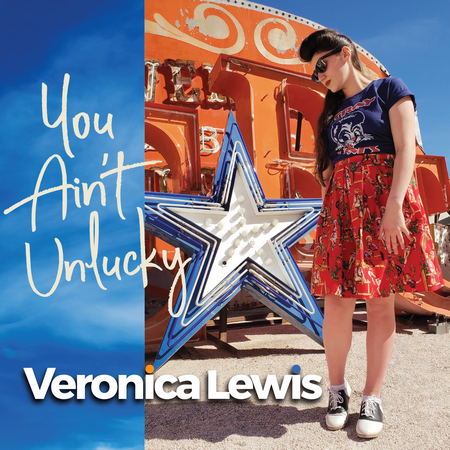 Veronica Lewis. Born in New Hampshire just 17 years ago, Veronica is already well established in her native New England where she has been recognized as the Best Young Artist in the Boston area; in 2019 she traveled across the country playing at festivals from Rhode Island to Memphis. On this debut album Veronica is supported by a drummer (one of Mike Walsh, Ben Rogers or Chris Anzalone); sax is added to four tracks by Don Davis and to one by Joel Edinberg. On three tracks Veronica was recorded at home playing her 115 year old upright piano 'Margaret'! Veronica wrote six songs and there are two covers.
With one foot firmly planted in the 1950's and the other in the future, Lewis pays homage to her influences – Katie Webster, Otis Spann, Jerry Lee Lewis, and Pinetop Perkins. Combine this with the authentic approach to this self-produced album, she captures the essence of a time when only talent and passion dictated the success of a recording.
It's an uplifting, authentic, and original message to the world at a time when it is needed most. A seasoned pro and award winner at 17, Lewis rocks the piano, and her strong, expressive voice is punctuated with a light and delicate vibrato, belying her age. Blues progressions are a launching point, evolving into original songs with stories that are both thought-provoking and humorous. Her tight, straight-ahead trio of piano, drums, and sax delivers a stunningly "full-on" sound, as Lewis belts out a message made to heal the soul.
https://www.veronicalewis.com/youaintunlucky
https://www.youtube.com/watch?v=LqqGvioSa9k&feature=youtu.be