"Spirit of Mink DeVille" The 2nd Annual Willy DeVille Memorial Concert
The Spirit Of Mink DeVille are band members who toured and recorded with Willy DeVille since 1976. Spirit Of Mink DeVille presents Willy's music in concert at BB King Blues Club, New York USA (since his passing 2009) to keep Willy's spirit and music alive in NYC. Come and celebrate his life and music with us on this 2nd annual Willy DeVille tribute! 31st august 2011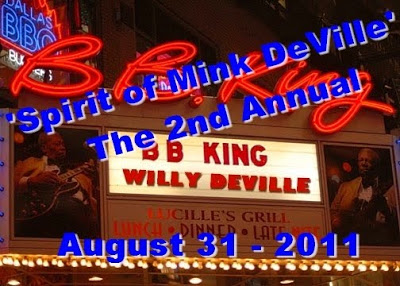 Willy DeVille was nominated for an Academy Award for his song Story Book Love (1987) which was theme song for the movie "The Princess Bride". From the street influences of NYC's lower east side to San Francisco, then touring Europe, moving to New Orleans, New Mexico and back to NYC, Willy's music echoes the roots of American R&B, folk, New Orleans, blues and rock.
The Spirit Of Mink DeVille are band members who toured and recorded with Willy DeVille since 1976.
Spirit Of Mink DeVille presents Willy's music in concert at BB King Blues Club, (since his passing 2009) to keep Willy's
spirit and music alive in NYC. Come and celebrate his life and music with us on this 2nd annual Willy DeVille tribute!