Martin Harley (UK) 'Shut Up And Listen' session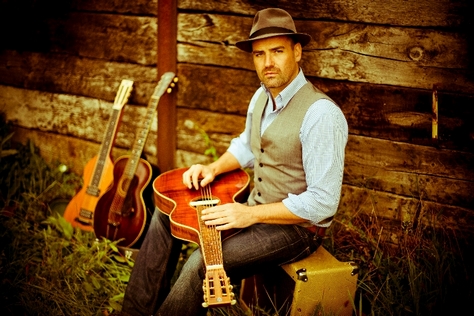 Maandag 15 okt. 20:30 u Bel Air Boschstraat 174 Breda
Martin Harley (Cardiff, Wales 1975)is een Engelse singer/songwriter en slide-gitarist, die zich heeft gespecialiseerd in folk en blues. Martin is een uitermate getalenteerde akoestische roots en blues-gitarist die aan de doorbraak van zijn wereldwijde reputatie staat. Hij speelt het liefst op een van zijn Weissenborn hawaiiaanse lap-steel gitaren.
Martin's laatste studio-album "Static in the wires" kwam in februari 2017 uit en werd geproduceerd door hemzelf en Daniel Kimbro. Het was Martin's zevende album en werd opgenomen in Nashville Tennessee. Evenals op het voorgaande album kreeg hij muzikale ondersteuning van de reeds genoemde Kimbro, maar ook van 14-voudig Grammy-winnaar Jerry Douglas (Ray Charles,Eric Clapton, Dolly Parton), Derek Mixon (Chris Stapleton, Sam Lewis) en Micah Hulsher (Alabama Shakes).
De plaat werd live opgenomen in de "Wow & Flutter studio" in Oost-Nashville en gemixt door analoog-goeroe Joe V McMahan, die van iedere hoek van de ruimte gebruik maakte. De drums klonken het beste in de keuken en als je goed luistert, kun je de goederentreinen voorbij horen denderen.
"Harley offers the listener a masterclass in taste, style and roots blues" – *Guitarist Magazine***
"Martin is arguably the best Weissenborn player in the UK and has been for many years." – *Weissenborn Exchange**
"No doubt that he is a slide guitar master. He is the business" – *Roots Magazine***
"Awesome" – *Johnnie Walker, BBC Radio 2***
https://www.youtube.com/watch?v=rXP74hcCMUs Martin Harley with Daniel Kimbro Nobody's fault but mine.
GRATIS entree, maar er wordt wel met de pet rondgegaan!