CD van de maand maart: The Fabulous Thunderbirds – On The Verge
Zojuist verschenen: het nieuwe album "On The Verge" van deze al ruim 30 jaar bestaande band. Niet zomaar een nieuwe cd, want met deze schijf slaan de mannen onder leiding van frontman Kim Wilson een geheel nieuwe richting in.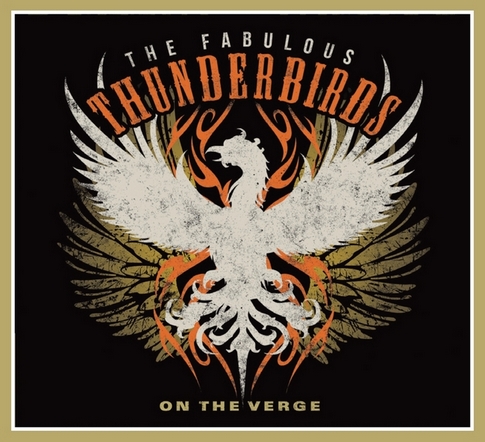 Wie een cd verwacht vol dampende en stampende blues komt bedrogen uit, want met deze nieuwe release gaan de mannen een nieuw pad op. En dit kompleet met blazers en Hammond. Resultaat: een mix van soul, funk en een klein beetje blues. De diehard fans zijn gewaarschuwd.
De cd beluisterend horen we allemaal nieuwe invloeden. Zo komen we O.V. Wright ("Too Much Water") en Junior Parker ("That's The Way We Roll") tegen en doet de nieuwe single "I Want To Believe" denken aan Lenny Kravitz-meets- the Staple Singers. Het nummer "Loving Time" zou zomaar een Los Lonely Boys cover kunnen zijn. "You Got To Bring It With You" is een funky soulfull rocknummer, terwijl de laatste track, "Lonely Highway" neigt naar de blues van de Stax traditie.
De oude vertrouwde fanbase zal misschien even moeten wennen aan deze nieuw ingeslagen weg maar zullen zich snel kunnen vinden in het vertrouwde stemgeluid en dito harpspel van Wilson. Het opent zeer zeker deuren voor een hele nieuwe schare aanhangers van de T-Birds. Een behoorlijk gedurfde stap om in dit genre te duiken, maar dat is deze klassemuzikanten zonder meer toevertrouwd en wij kunnen het wel waaarderen!
(Bert Vethaak / DrGroove)
De CD van de maand komt tot stand i.s.m. Roots Mail Music, cafe De Kleine Wereld en SR&BB